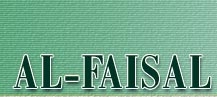 AL-FAISAL MARBLE FACTORY

Peshawar Road Turnol
none Islamabad
Pakistan

phone: 0092- 51 - 2227770-1
fax: 009251 - 2227773
Al Faisal Marble was established in 1993. The company has a solid and vast background and experience in the field of marble processing and manufacturing of different articles and products. Under keen and professional supervision of
Mr. Mohammad Younas (C.E.O) of the company, Al Faisal Marble has obtained the status of market leaders and innovators in Pakistan Market and is receiving very encouraging and desired response in domestic and international market.
Every piece of marble and its product that we provide is closely inspected for defects and only the highest quality product is passed on to the customer. All of our products are made up of exceptional quality and customer satisfaction is guaranteed from all respects. The company is built on quality workmanship and continued customer satisfaction, which is our ULTIMATE GOAL.
Our product line includes Marble Urns, Flower Vases, Marble Tables, Marble Lamps, Marble Fountain and other Handicrafts.
| | |
| --- | --- |
| Products and services of our company: | |